Industry and business led
SFIA is industry and business led and at its core is experience. Skills proficiency and professional competency are attained at a particular level due to the practice of that skill, at that level, in a realworld situation. The context for SFIA is, therefore, the real-world environment in which industry and business operate.
Any description of professional capability, whether as part of a job description or an assessment of an individual, includes a number of different aspects. The diagram illustrates the context for the different aspects that contribute to capability.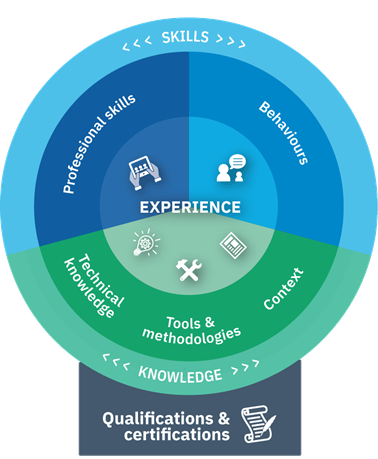 Experience
At the centre of SFIA is experience: an individual has a skill or competency at a particular level because that skill or competency at that level, has been demonstrated in a real-world situation together with the appropriate generic attributes.
Experience demonstrates the ability to apply knowledge and achieve outcomes in a practical environment.
The description of skills within SFIA, at different levels, relate to the experience demonstrated by individuals at that level.
Gaining experience is not a linear path. By applying knowledge and skills in a workplace setting, experience is gained and as people develop their experience in this way, they also build their knowledge and skills and develop their behaviours.
Professional skills
SFIA defines professional skills aligned to levels of responsibility. These are the most recognisable components of the SFIA framework. They provide the information necessary to identify, assess, deploy and develop professional skills.
Behaviours
Behaviours are an essential component of capability and form part of the overall SFIA Framework.
They can have a variety of names - such as behavioural competencies, social skills, employability skills or soft skills.
The SFIA Framework uses the term behavioural factors.
The behavioural factors in SFIA are distributed throughout the generic attributes that characterise the SFIA Levels of responsibility.
SFIA is designed to be flexible. This allows organisations to use the behavioural factors based on their context of use. In the workplace, behaviours are typically highly contextual and culturally specific.
Many organisations define their own set of behaviours that are used internally.
These are usually aligned with corporate values and vary considerably from one organisation to another.
In this case they can be mapped to SFIA's generic attributes and behavioural factors or SFIA can be used to complement them effectively.
Where an organisation does not have its own behavioural framework, the SFIA behavioural factors can make a significant contribution to meeting this need. The SFIA behavioural factors can be used as defined or as the basis of an organisation's own behavioural model.
A detailed explanation of the SFIA behavioural factors is available in an associated document: Glossary of behavioural factors within the 7 levels of responsibility.
Knowledge
Knowledge is a critical component of competence. The design of SFIA emphasises that knowledge is required to demonstrate any skill effectively. To be competent and effective in any role an individual will need a mix of generic, specialist and domain knowledge.
Generic knowledge represents what someone might reasonably be expected to know before any special knowledge is needed for a particular domain or specialism.
Domain knowledge relates to the industry or business domain that the organisation operates in.
Specialist knowledge is specific and detailed for a particular specialism or role.
Technologies, products, methods, approaches, legislation, services, processes and domain specifics are all examples of where professionals working in the industry are required to have knowledge.
Knowledge can be obtained in different ways such as from formal training courses, on-the-job training, web-based research, networking, conferences or simply by working with, and mentored by, experienced practitioners.
Knowledge may be recognised by formal qualifications or certifications and an increasing number of university courses, training courses, events and other mechanisms for gaining knowledge, have been mapped to SFIA to ensure they align with the required professional skills. This approach enhances the employability of students attaining these qualifications.
SFIA does not define the specific knowledge required to exercise any particular skill because knowledge changes rapidly and is highly context dependent. SFIA's approach is to clearly state that knowledge is required through the knowledge statements in the generic attributes. This allows users to determine what knowledge is required for the environment in which the skills are being applied.
Without prescribing the knowledge required, SFIA links to around 50 bodies of knowledge as a useful resource for those seeking sources of generic and specialist knowledge.